4 Molokai Residents Join Fire Dept.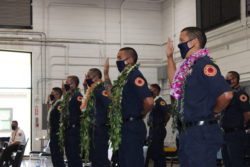 MFD News Release
Last month, the Department of Fire and Public Safety celebrated the graduation of its 36th Firefighter Recruit Class in Wailuku. The 19 firefighter recruits graduated from the Maui Fire Department's 25 week Recruit Training Program, and four of them are from Molokai. The program is designed to train and evaluate fire recruits on the many skills and disciplines necessary to serve the public as a firefighter.
Fifteen firefighters will be joining the ranks with the Maui Fire Department and will be assigned to Maui County fire stations on Maui, Molokai, and Lanai. They are: Mahonri Aiwohi, Kaikane Beam, Ross Bisera, Michael Carter, Joshua Galvan, Aaron Griffith, Cameron Layer, Ikaika Neizman, Daniel Place (of Molokai), Kenneth Puaa, Charles Puaa-Spencer (of Molokai), James Puaa Spencer (of Molokai), Daniel Silvestre, Matthew Wilburn, and Jacob Wolfson.
Four firefighters will go on to serve at State of Hawaii, Airport Rescue and Fire Fighting stations in Kona, Lanai, Molokai and Kahului. They are Hinale'a Cortez, Jared Lawrence, Nohea Pangkee (of Molokai), and Andrew Perry.
Recruits received their badges and took their oath in a long awaited ceremony. Each recruit selected a special family member to carry out the traditional "Pinning of the Badge." Maui Fire Chief David Thyne delivered the time honored Firefighter's Oath of Office, making it official.
Graduating recruits were presented with the following awards, recognizing those who finished at the top of their class in the following categories. Two of the new Molokai firefighters were among those awarded.
Academics Award was given to Jared Lawrence, presented to the recruit with the highest scholastic average on all written course examinations administered throughout the training program.
Functional Skills was awarded to Daniel Place, presented to the recruit who demonstrated the highest competency in functional skills assessments throughout the training program.
Firefighter Spirit, Ho'ulu Award was bestowed on Kenneth Puaa. Named in honor of the late Fire Captain, Charles Iwata, this award honors the true passion and firefighter spirit that Captain Iwata was so widely known for. This award is presented to the recruit who displayed a high moral character and exceptional attitude, and whose conduct expresses respect and heart towards others, and to the firefighting profession.
Nohea Pangkee was awarded Most Outstanding, Overall. Selected by recruit training officers, this award is presented to the recruit that excelled in every phase of recruit training, and demonstrated outstanding leadership ability, projected an exceptional attitude, and led their class in physical fitness performance.