4 Molokai Artists in Hawaii Craftsmen Exhibit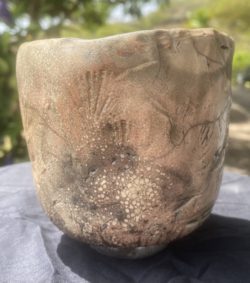 Hawaii Craftsmen News Release
Four of Molokai artists' works, for a total of five pieces, were accepted into the Hawaii Craftsmen Annual Statewide Exhibition of traditional and contemporary crafts. This statewide competition has been held annually for 53 years. Entries totaled 456 artworks 156 Hawaii artists from six islands, and 115 artworks were selected, representing 75 Hawaii artists from six islands.
Congratulations goes to Arabella Ark for her "Lily Jar, lidded vase," a ceramic, gold and copper leaf piece; Dan Bennett for "Cervine Ossurary #2 COHID20-Crown of Horns" which is a high fire stoneware with deer antler. Kanoe Dudoit was accepted for her white clay, white crackle glaze piece called, "On Her Journey;" and Kim Markham earned two entries: "Sushi" which is a stoneware handbuilt platter and "Opihi" which is a Raku pinched tea bowl.
Kim Markham was also awarded a Merit Award of $250 in Ceramic Arts for her Raku tea bowl, "Opihi." Kim has an interesting backstory to go with that tea cup's creation that maybe only Molokai people can appreciate. Says Kim, "Our friend Frank Pave was ono for opihi so he asked Walter Naki to take him backside in his boat. But Walter couldn't go that day. So Frank hiked over the mountain on the far side of Halawa to the North Shore and picked these enormous opihi. Boy, I gave him hell for doing such a dangerous thing all alone and not even telling us beforehand. We cooked them buggas up with garlic butter. Yum. I impressed one of the shells into wet clay to make a handbuilt tea cup. Rich helped me fire it in a garbage can raku kiln in our garage." Kim's tea bowl was also one of the first items to sell in the exhibit.
This exhibition is free and open to the public and can be viewed at the Downtown Art Center located at 1041 Nu'uanu Ave., Honolulu on the second floor exhibition hall. Gallery hours are Wednesday to Saturday, 11 a.m. to 6 p.m. and Sundays 1 to 4 p.m. This is a large and well ventilated space, but all visitors are required to wear a face mask and observe social distancing. You can also view a video of the exhibition at the Hawaii Craftsmen Statewide Exhibition You Tube Channel. There will also be a digital catalog available which can be published on demand at the Hawaii Craftsmen website.