4-H Youth Steering the Herd
For youth in the Molokai 4-H club, raising and showing animals takes months of patience, preparation, and care. But participants at the organization's annual Livestock Expo last weekend proved that all the work is worth it. Youth proudly showed off their animals large and small, while the community got to engage in their learning process and enjoy farm market goodies, raffles and auction prizes.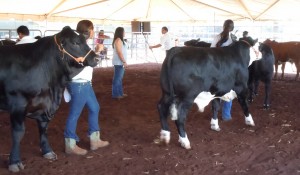 For senior 4-H-er Kainoa Kamakana, seven years of participation culminated in taking first place in the market steer showmanship competition on Saturday.
"It feels good [to win] – all the hard work paid off," said Kainoa. "I encourage every child to join 4-H – it teaches a lot, [and you're] better set for life from the skills you learn."
He and other competitors maneuvered 900 to 1200-pound cattle in a ring to impress Oahu judge Jill Phillips.
"I look for eye contact, and someone who's paying attention and presenting their animal well and in a calm manner," she said. "The more aggressive you get, the less cooperative the animal will be."
Phillips, herself a former veteran 4-H participant, also tested competitors in the steer showmanship arena with questions to show their knowledge about breed and basic care.
Taylor Keliihoomalu, who won second place in the senior steer showmanship division, said the biggest challenge for her is the amount of time it takes to care for her cattle.
"It usually takes two to four hours per day," she said. "Sometimes I spend have the day [working with the young steer] getting them used to you so they're tame."
Taylor, Kainoa and other participants have their steer for about seven months before competition, from the time they are about a year old and weigh about 400 pounds. Now averaging 1000 pounds, the animals can be a handful in the arena at the best of times. To get ready for show day, Kainoa said they groom the steer — "they're pretty hairy" — by shaving them and "mak[ing] them look showable."
Along with junior and senior market steer showmanship competitions, older participants also showed off their hogs, goats and sheep. For younger 4-H-ers, the small animal exhibits offered an opportunity to demonstrate the basics of animal care.
And while Friday and Saturday's events highlighted hard work, the Expo also showed a fun side as keiki battled it out in a watermelon eating contest, with faces dripping in juice as friends cheered them on.
The farm market tent featured many local favorites such as Kumu Farms, as well as some new faces, such as the MoBettah Lime Farm, located on the west end, which offered free samples of homemade lime soda.