4-H Ranchers Put Skills to the Test
Judged on their stance, temperament, muscle mass and ability to follow direction, pigs and steer competed with their owners for top ribbon last weekend. The animals were gathered under white tents at the Kaunakakai Ball Park as eager fans filled the stands ready to cheer on keiki as they showed off their prized animals.
For months, youth in the Molokai 4-H Livestock Club, have been raising, grooming, keeping records and showing their animals in preparation for the annual Molokai 4-H Livestock Expo last weekend. The program promotes agriculture and teaches children responsibility and the business aspect of life, said Event Director Rex Kamakana.
4-H stands for "head, heart, hands and health" and is a national educational organization. On Molokai, the students are involved in a livestock program and are challenged with real-life issues as they learn responsibility through raising, showing and judging livestock, Kamakana said.
For 4-H-er James Borden, Molokai High School (MHS) junior, three years of participation and preparation culminated in taking first place in the market steer grand championship.
"It felt real good to win," Borden said. "This year I worked on my steer more and kept my eye contact with the judge. Next year, I want to try my best and try to win it again."
There are 25 keiki, from as young as five-years-old to high school seniors, involved in the Molokai 4-H Livestock Club. At the Expo each summer, the participants have their animals judged in two competitions on a set of priorities that represent the industry.
It's like a beauty pageant for animals, said second-year judge Gabriel Ponce when describing the set criteria each animal is judged upon in competition.
In the market steer and hog competition, animals are judged on their looks. That includes muscle, balance, fat content and structure, which must all be combined so the animal is not only the best animal to eat, but has quality physical traits, Ponce said.
Besides looking good on the field, the animals are judged on how well their handlers can present them with control and leadership in the ring in the steer and hog showmanship competition.
"Those that work at home and practice every single day, it shows because their animals are calm and cooperative," Ponce said. "It eliminates the quality and puts more emphasis on the kids that work hard and their abilities."
Polinahe Bishaw Mokiao, Molokai Middle School 8th grader, who won the reserve championship in the swine showmanship division, said her triumph in the ring is due to the amount of time she spent training and working with her pig.
"I think I won because I spent a lot of time with it and I had a good rhythm with my pig in the ring and had a good chance of impressing the judge," Bishaw Mokiao said. "I wasn't really expecting to win, this being my first year, so this was a good surprise."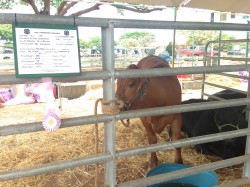 She said 4-H has taught her more than how to train and care for a pig. She's learned to be more responsible, reach for her goals and can now see herself pursuing a college degree.
"Maybe once I graduate I can start my own 4-H club and bring in more animals to raise them with other children and help them pursue what they want to do in their lives," she said.
Winning and responsibility run deep in the family genes.
Bishaw Mokiao's brother Nainoa, MHS 10th grader, won the grand championship for swine showmanship. Last year, Nainoa Bishaw Mokiao was crowned the reserve champion for showmanship of his pig, but this year he said he wanted to exceed his own expectations and see how far he could go.
"To me it felt good [to win] it's something that I worked hard for and I just wanted to earn something," Nainoa said. "I won because I put in a lot of time to it, made my [pig] tame and easy to control and had the dedication and pride in what I did."
Along with market and showmanship competitions, non-competing participants engaged in the learning activities, raffles and auction prizes and listened to live entertainment by reggae sensation Kolohe Kai. Both days featured games, food booths and various crafts for the young and the old. The events closed with an auction of the selected steer, pigs and goats.
And while Friday and Saturday's events highlighted hard work, the experiences gained during the process are most important, Ponce said.
"4-H is like a vehicle that teaches you opportunities that can take you different places," Ponce said. "It's not about the ribbons, pictures and being in the articles, it's about the things you learn while through it."