4-H Livestock Expo This Weekend
4-H Molokai News Release
This week, Molokai youth will have a chance to show off their livestock and agricultural efforts, while community members will enjoy educational demonstrations, live auctions, food and other entertainment. The 4-H Molokai Livestock Expo is slated for Friday, June 28 and Saturday, June 29 at the Kaunakakai Ball Field.
4-H Molokai is partnering with The Hawaii Farm Bureau to educate the youth of Molokai about the many benefits of the 4-H programs established on island and across the U.S.
Friday will feature a small animal weigh-in, oral reasoning competition, vendor exhibits, 4-H parade and walk in the park followed by the Market Goat, Swine and Steer Competition. Vendor Exhibits will open from 4 to 9 p.m.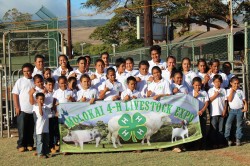 On Saturday, there will be a goat and sheep showmanship competition, a steer showmanship competition, food and meat cutting demonstrations by the Molokai Slaughterhouse, Pineapple and Watermelon Eating contests, Dog Race competition and Akaku Media will be showing a film featuring 4-H youth caring for their animals. Exhibitions will be open from 10 a.m. The Buyer's registration and pupu tent will begin at 3 p.m. followed by the live auction of livestock at 4 p.m. The night will end with the award presentation and ceremony at 7 p.m followed by entertainment to finish off the weekend.
Both days will feature games, food booths and various crafts. Food and dinner plates will be available from Molokai 4-H Club, as well as Mike's Catering.
Please join us for a promising fun filled day, benefiting 4-H members who have worked hard to raise and care for their livestock. Come on down for some food, fun and animals!