4-H Farmers Boast Their Best
Lights flooded the Kaunakakai Ball Park last Friday night, with fans filling stadium seats ready to cheer the keiki on the field. But there were no strikes or homeruns during this performance – only "moos" and "oinks."
More than 30 youth involved in the Molokai 4-H Livestock Club showed off the animals they've raised within the last six months at the annual Livestock Expo last weekend – a Molokai tradition participants say has been carried on for generations.
"The kids learn a lot… It teaches them all about being sustainable through backyard-raising animals," said rancher Jimmy Duvauchelle, who served as emcee and whose children, grand-children and great-grandchildren have participated. "Molokai, we don't got much, but we got plenty backyards."
Junior and senior participants, ages 9 through 19, were judged with their steers and hogs Friday night. Participants scored in two categories: market, which judged the livestock's marketability, and showmanship, which was based on keiki's ability to display animals to the judge.
Six contestants showed hogs, herding them around a circular pen on the field's diamond. 4-H volunteers followed with spray bottles, squirting the swine to keep them cool. Giggles erupted from young audience members when a hog snorted or made a dash across the dirt.
Jill Eguires, a former 4-H member from Oahu, judged the competition, awarding Rex Kamakana Jr. first place in the market competition for his swine, named Pork Chop. Acey Reyes placed first for her showmanship of Fat Pig.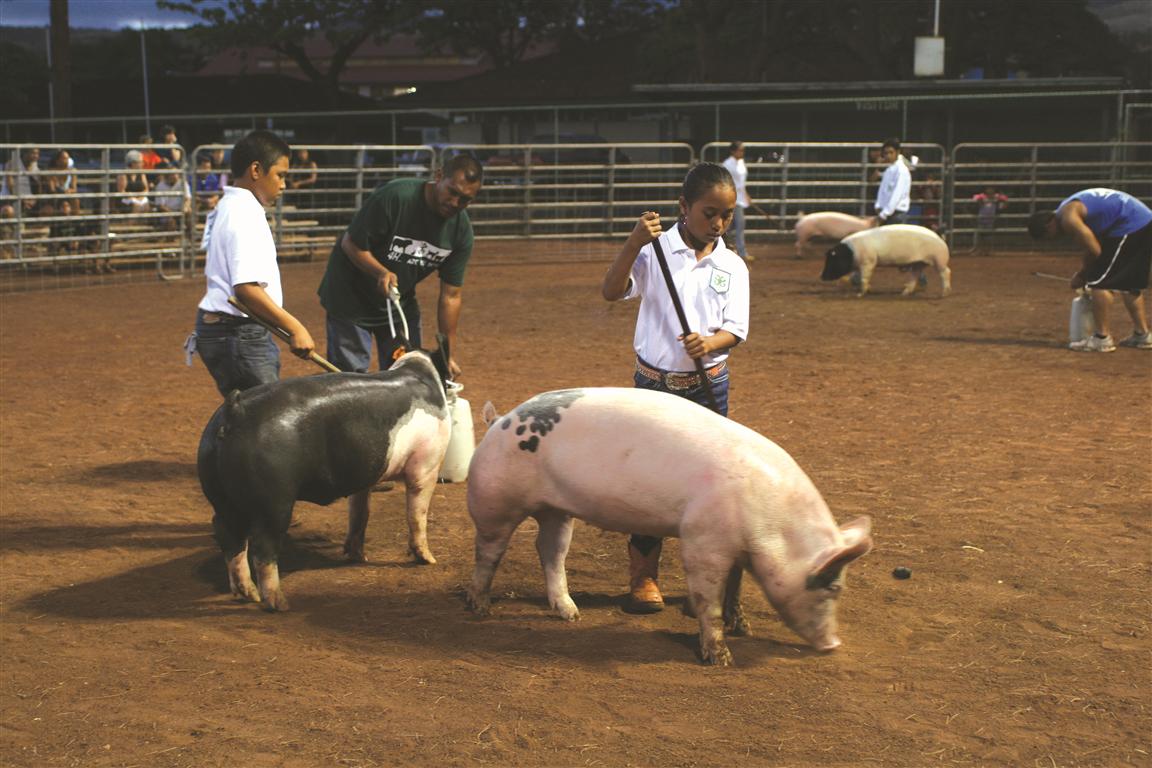 learn that if you put up so much money, you make a profit. And if you don't, don't do it that way again," Helm laughed.