35 Years of Agriculture
A recent Hawaii Dept. of Agriculture (DOA) land use study shows dramatic changes in agriculture land use in the last 35 years, both on Molokai and statewide. Most of Molokai's agriculture is in the Ho`olehua area, on DHHL, state and Molokai Ranch land. According to the DOA report, the largest ag land users in 2015 — farming about 2,300 acres — are seed companies that primarily lease from Molokai Ranch. Prior to 1980, many Ho`olehua homesteaders leased their land for pineapple production, while some of that land today is being used to grow diversified crops like sweet potatoes, dryland taro, vegetables, macadamia nuts, bananas and papayas, according to the study.
The Statewide Agricultural Land Use Baseline 2015 study updates a 1980 survey and provides current information and maps on the locations of farms and ranches around Hawaii. The baseline study is intended to help industry, government and the community in making decisions that affect agriculture land use in the state, according to a DOA release. It can be used to measure changes in land use patterns both historically and in the future. The DOA says the study will also serve as a planning tool for agency, industry and community interests to think collaboratively about future directions in agriculture.
Statewide in 1980, there were 350,830 acres in crop production, 85 percent of which was sugar and pineapple.  In 2015, total crop acres have dropped to just 151,830 acres with only 28 percent of that being sugar and pineapple. In 2015, sugar remained the largest crop on the state with 38,800 acres but after 2017, those acres will no longer be in use after the planned closing of Hawaiian Commercial and Sugar Company plantation on Maui. The DOA noted, however, that diversification of crops has increased in the last 35 years. In 1980, only 7,490 acres of diversified crops were grown statewide, while today, that number has more than doubled. Diversified crops including leaf, root and melon crops — most of which is consumed locally — are being grown on 16,900 acres in Hawaii.
On Molokai, crops include 28 acres of aquaculture, 123 acres of coffee, 937 acres of diversified crops, 26 acres of flowers or landscape plants, 93 acres of papaya, 2 acres of taro, 43 acres of tropical fruit and 38,261 of pastureland for cattle, totaling 41,854 in agricultural acres. Hawaii Island boasts the most ag acreage at 615,473, while Molokai outnumbers Oahu with 40,818 acres and Lanai with 65 acres.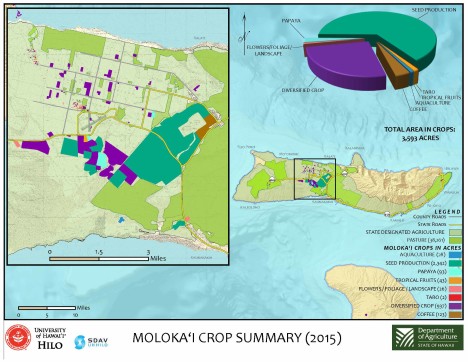 Molokai exports crops such as corn seed, cucumbers, dryland taro, coffee, beef, organic papaya, eggplant and other vegetables, according to the study. The DOA notes that while a portion of the island's food crop is consumed by residents, a limited local market can lead to surplus during times of seasonal abundance.
The full 100-page report is available on the HDOA website at hdoa.hawaii.gov/salub/.