2nd Annual Grassroots Benefit Concert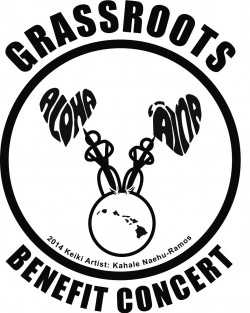 2014 Grassroots Committee News Release
This year's second annual Grassroots Benefit Concert on Saturday, July 5 at Duke Maliu Park from 6 to 10 p.m. will promote a health environment and lifestyle on Molokai through aloha `aina. Bring a hali`i or lawn chair and enjoy amazing music under the stars all night long!  Featuring Molokai's own Mel Hanohano and I-land Flavah (Keaka Kaiama, Edwin Mendija, Hi`i Kanuha and Kui Han), Napua Greig and Kamakoa Lindsey-Asing, Jamaica Osorio, Koa Hewahewa and Kapu System.
Be among the first 20 individuals or families to arrive at the entrance and get a free watermelon donated by the Davis Farm. Concert bracelets, distributed to each adult, will also be randomly marked.  If given a marked bracelet you may receive a gift set from Nutiva or Newman's Own Organics, a MOM Hui trucker hat or a gardening book.  Also receive a free sample of Dr. Bronner's organic skin lotion, while supplies last.
Check out our `ono food, fresh drinks and local-sustainable-organic farm vendors and the Mauli Ola booth for acupuncture or massage demonstrations. The event will also feature a "Fun 4 Keiki" tent with educational activities for keiki age 3 to 12 focused on aloha 'aina, growing food, honey bees and more!  Keiki who participate in atleast eight different activities receive yummy, organic chocolate donated by the Equal Exchange Fair Trade Co-op and will automatically enter our free gift giveaway drawing.
Tickets are $5, pre-sale, available at Mana`e Goods & Grindz, Paddlers Inn, Something for Everybody and Kualapu`u Market, and $10 at the gate.  One hundred persent of the ticket proceeds benefit The MOM Hui's Ho`ola Hou Scholarship Fund – a community supported financial assistance program to support individuals interested in pursing a degree focused on health, environmental studies, or sustainable farming.
For more information contact: Mercy Ritte at molokai@themomhui.com.
Mahalo to our generous sponsors and event supporters!
Hawaii SEED, The MOM Hui, Hawaii Ocean Project (The Molokai Ferry), Nutiva, Barking Deer Farm, Mana`e Goods & Grindz, Bringing It Home, Bonnie Bonse and Natasha Florentino.MolokaiAcupuncture & Massage, Alu Like's Ho`ala Hou Program, Molokai Community Health Center's S.P.A.M Youth Program, Hawaii Health Connector, Molokai Bee Keepers, Hawaii Tropical Fruit Growers, `Aina Pulapula, Molokai Nei Organics, Molokai Food Forest, Pu`u O Hoku, Davis Farm, Wonini Farm, `Aina Kulani Grown, Molokai Gold, Pualani O Molokai Mana`e Grown Farm, `Ohana Farm, Molokai Ice House, Inc., Sust`ainable Molokai, Friendly Market Center, Kualapuu Market, Newman's Own Organics, Dr. Bronner's Magic Soaps, and Equal Exchange Fair Trade Co-op.