Wrestling Club Success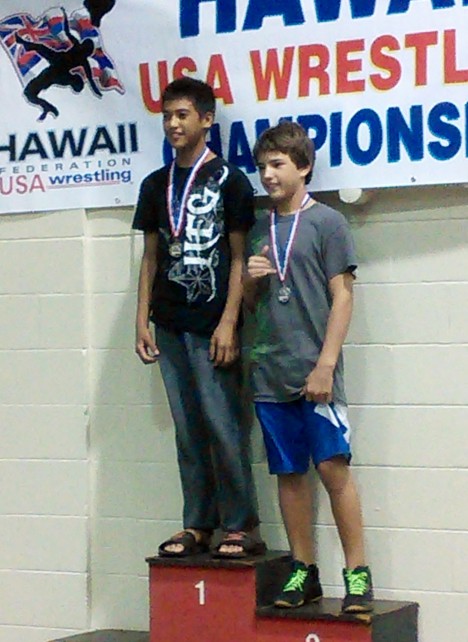 Community Contributed
By Louise Manley
On Saturday, May 10 at the Lahaina Civic Center on Maui, Molokai Wrestling Club(MWC)participated in the annual USA Wrestling Hawaii State Tournament with 648 children in attendance.  As more than 25 teams gathered together, youth from preschool through high school prepared to wrestle opponents of similar age and weight with the hopes of ultimately earning a state title.  Though the event may appear to some like organized chaos, to others who love the sport, it is energizing and full of anticipation.
One young wrestler said, "States makes me feel nervous, anxious, and exhausted all at the same time, but the challenge to win makes me so excited!"
Such passion was evidenced as 31 of our wrestlers put it all on the mat and ended up earning 17 medals — six first places, six second places, two third places and three fourth places. Consequently, we finished with a team score of 44 points, earning MWC a sixth placed position in the overall standings!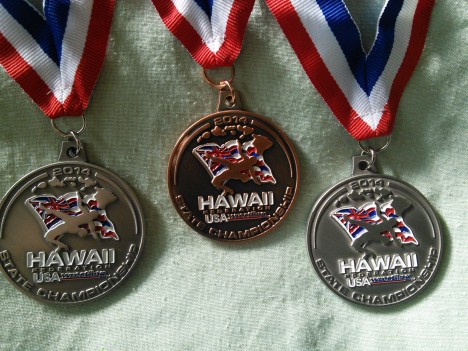 MWC has been in existence for over 10 years.  It was our vision to provide for the keiki an opportunity to learn to wrestle and be physically active.  But because we hold to the philosophy that "there are no losers in wrestling, just winners and learners," we also desire to teach life skills such as how to win and how to "lose" and to experience what it means to be a team and to have fun.  Though we initially started the 2014 season with more than 100 curious students, the arrival of competition secured 80 participants, registered and ready to go.
MWC not only focuses on the development of our keiki, but we also desire to nurture student leadership!  We utilize the expertise of our MHS Varsity wrestlers, urging them to come and volunteer as student coaches, running drills, demonstrating technique, encouraging participation, and even coaching during tournaments.  In teaching they learn and in leading by example they become the role models for the next generation of wrestlers.
The MWC program has proven to be beneficial over the years and that is largely due to the amazing support of our community.  We would like to express our thanks to those who sacrifice for the keiki, cheer them on, support our fundraisers, and host our events,.  Should you be interested in learning how you can be a part, please feel free to contact us at molokaibaptist1@yahoo.com.  Remember, in the words of Carl Albert, "…wrestling is the only sport where you can be a giant regardless of how big you are!"